Gay Los Angeles Resource Directory
One of the world's leading gay and lesbian destinations, Los Angeles is much more than a single metropolis — rather, it's an entire collection of both sprawling and in many cases scenic neighborhoods and adjacent cities. It could take a full week just to visit even those areas with the greatest numbers of gay-popular businesses and residential blocks, including West Hollywood, Silver Lake, Hollywood, the San Fernando Valley, Santa Monica, Venice Beach, Beverly Hills, Westwood, and even the increasingly trendy downtown. The center of America's entertainment industry has a ton of great restaurants, hotels, and bars, and of course Universal Studios.
From West Hollywood to the San Fernando Valley, Silver Lake to the beaches, there's plenty to text home about. Gay visitors will find hundreds of LGBT-specific sights, sounds, tastes and activities — and even more opportunities to make new friends.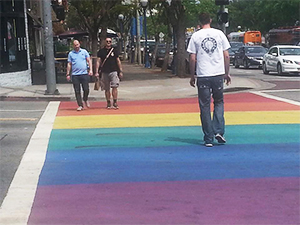 West Hollywood
The small but bustling city of West Hollywood is completely encircled by Los Angeles. A large proportion of its 40,000 residents are gay, and the city contains the greatest concentration of gay-friendly hotels, restaurants, shops, and bars in metro L.A. It's also the site of some of the area's largest LGBT events, such as Gay Pride, OutFest, and the Halloween Carnaval.
Long Beach
A unique seaside community full of arts, entertainment, great food, and shopping, Long Beach is a surprisingly large gay hub. Stay on the famous haunted Queen Mary, enjoy some California cuisine at one of their many restaurants and take in the sights including Long Beach Aquarium. Though there are bars and restaurants that cater to the LGBT crowd, most of Long Beach is as gay-friendly as it is sunny.
Santa Monica & Venice Beach
These neighbor beach communities to the west are loaded with great shopping, several hip hotels, and plenty of great restaurants — not to mention outstanding beaches. Venice, home of Muscle Beach and the famous boardwalk, is one of the most entertaining places in L.A..
Orange County
The gay scene in vast Orange Country (which is south of L.A. and north of San Diego) is mainly concentrated in Laguna Beach, a very gay friendly beach town. Don't forget the other gay-popular attraction: The Happiest Place on Earth (aka Disneyland), still going strong in Anaheim after 50+ years.
The upscale beach towns that line Orange County dub themselves the "Orange Coast" and are home to fabulous resorts and wealthy beach communities. Take the Pacific Coast Highway to explore these towns, which include Huntington Beach, Dana Point, Newport Beach and of course Laguna Beach.