Advertise With Us
Reach out to hundreds of thousands of potential new gay tourism & wedding customers with California Pride Guide and GoGayCalifornia.com.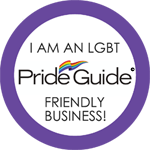 What's Happening?
Thursday, April 18th, 2013
By Howard Mintz hmintz@mercurynews.com SAN FRANCISCO — A federal appeals court on Wednesday tussled with the legality of California's unprecedented ban on gay conversion therapy for minors, suggesting it could be upheld despite concerns for the free speech …(more)
About the Pride Guide
Please Keep An Eye Out for New Information Coming Daily!
California being one of the most visited states by the LGBT community, has so much to go see and do. From the mountains in Northern California all the way down to Sunny San Diego, no one resource can offer you what we are creating. Here you will find one all encompassing resource on-line for your gay friendly LGBT travel, business, wedding and community needs.
Our Featured Partner